OAE Reviews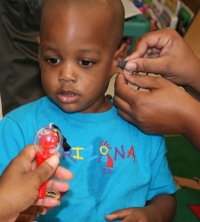 The following are reviews of Otoacoustic Emissons (OAE) equipment posted by hearing screening program personnel working with children 0 – 5 years of age in early childhood educational and health-care settings.
This site is not intended for screening program personnel working in hospital-based newborn screening programs or for personnel screening school-age children or adults. Postings by equipment manufacturers or vendors are prohibited.
---
Current Reviews
The reviewers' comments below do not reflect the opinions or perspectives of NCHAM or NCHAM Staff and should not be construed as an endorsement or non-endorsement of any particular piece of OAE screening equipment.
Review 1

I have used the "AuDx" brand of OAE equipment for around eight years and have been VERY pleased with it. It has been my work horse that I use for about 500 screenings a year. I complete all of my Early Head Start screenings with it and have used it for regular Head Start children who I was unable to screen with an audiometer. I've also tried the Oto-check and the Ero-scan OAE equipment, but have found the AuDx to be as good as any machine feature by feature, and better in many ways.

Benefits:

User friendly—Basically, only two buttons are used, and it turns itself off after a few minutes of inactivity.
Durable- It was made to be used out of a clinical environment in classrooms, homes, etc. This is advantageous when doing Head Start screenings, as not all machines are engineered to do so.
Foam Tips- My favorite aspect of the AuDx machine is that it is the only one that has foam probe tip covers. When performing a hearing screening a good probe fit, and low noise makes for a quick, easy, and pleasant experience (for you and the child). I prefer the foam tip because it:

Makes for a good snug fit. The foam expands in the ear canal and stays in even if the child moves.
Correct selection of probe tip size. I use the pediatric foam tip for 95% of my screenings. Other machines have a wide variety of probe cover sizes, but don't think this is an advantage. Screeners don't always know how pick the correct size, and each wrong choice is costly, as it must be discarded. This could double the cost of your probe tip covers.
Allows for high tolerance of noise. This allows screenings to occur in noisy environments where other machines could not be able to test. This means that children can often be screened in their classrooms.

Disadvantage:

No battery level indicator—I would like to know if the battery is low so it can be recharged. However the machine can be used while plugged in, and the battery life is around 3 hours of use.

The AuDx has a regular and a "Pro" model. I do not recommend the pro model for Early Head Start and Head Start programs. There are a few more features that would be helpful to an audiologist for clinical use, but for screening purposes of Head Start the regular model works great. I would not recommend spending the extra money for the pro model.

Please feel free to contact me with any questions or concerns, I would be glad to help out.

Reviewer information
Age(s) of children screened
Number of children screened with the equipment
Mark Dewsnup
Non-audiologist
Davis, Morgan, & Summit Head Start/Early Head Start
Kaysville, UT
Contact Mark Dewsnup
0 - 1 years
1 - 2 years
2 - 3 years
3 -5 years
100 or more
Review 2

Our Early Head Start program has been using the AuDx hearing screening equipment for approximately 8 years. I have been extremely satisfied with the screening reliablity of the machine. The AuDx machine is very easy to use and the training material is simple to understand which is helpful when training new screeners. I have never had a problem with the equipment. When the screen reads to refer I feel confident additional evaluating is necessary.

Reviewer information
Age(s) of children screened
Number of children screened with the equipment
Sheri Pencille
Non-audiologist
Southern Oregon Early Head Start
Central Point, OR
Contact Sheri Pencille
0 - 1 years
1 - 2 years
2 - 3 years
3 -5 years
100 or more
Review 3

Our program has been using OAE machines for the past 5 years. Initally we were using the Euroscan, then became familiar with the Audx. We trained home base visitors and health staff to use both machines. After using both machines all staff prefered the simplicity of the Audx. I compare using the Audx to taking a temperature in the ear, turn on the machine place the tip in the ear and start the machine.

Our EHS program enrollment is 134 children. Prior to OAE we used a subjective questionnaire and identified very few children needing medical care. After 6 months of using the OAE we identified 12 children who needed medical treatment.

Reviewer information
Age(s) of children screened
Number of children screened with the equipment
Rosanne Taylor
Non-audiologist
Peace Inc. Head Start/Early Head Start
Syracuse, NY
Contact Rosanne Taylor
0 - 1 years
1 - 2 years
2 - 3 years
3 -5 years
100 or more
Review 4

Since 2007, our nonprofit organization has been using the Ero-Scan OAE and each year we screen nearly 1,000 infant through preschool-age children with it. Our health screeners have found it very easy to use as well as being reliable. The settings are simple and only three buttons are needed to operate it. The Ero-Scan can remain in the cradle while the screening is being done, which allows the screeners to help prevent curious little hands from tugging on the probe cord and the children love to help us watch for the "blocks" to appear on the screen.

As a small nonprofit, we pride ourselves on efficiency and keeping costs low and the Ero-Scan is not only efficient, but the availability of rubber ear tips makes this a very cost-effective screening tool for us. Ninety-five percent of the children we screen use one of two sizes of ear tips and it was apparent very quickly which sizes those were. We have very little excess waste from trying to determine which size ear tip to use. The portability, durability and cost effectiveness of the Ero-Scan OAE makes it an ideal choice for us. Our staff has become very dependent on the Ero-Scan and we can't imagine screening without it.

Reviewer information
Age(s) of children screened
Number of children screened with the equipment
Karen Klevar
Non-audiologist
Sight & Hearing Association
Saint Paul, MN
Contact Sight and Hearing Association
0 - 1 years
1 - 2 years
2 - 3 years
3 -5 years
100 or more