Last Updated: 10/14/2010
National Resource Center for Early Hearing Detection and Intervention
NCHAM is pleased to continue serving as the National Technical Resource Center (NTRC) for Newborn Hearing Screening and Intervention with funding from the Maternal and Child Health Bureau, along with support from the Administration of Children and Families Office of Head Start. The NTRC will support new and ongoing efforts at the state, regional, and national levels to:
Meet the training and information needs of families and professionals.
Provide forums for communication and coordination among stakeholders.
Expand hearing screening programs in early childhood and health care settings.
Specifically, our goals are to help states create, improve, and operate sustainable Early Hearing Detection and Intervention  (EHDI) systems in which: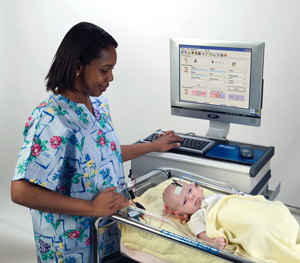 To accomplish these goals, with an added focus on ensuring that children who need services do not become lost to follow-up after screening, NCHAM will:
Continue and refine the most successful technical assistance activities provided during previous years through the Technical Assistance Network.
Expand and coordinate work with Collaborating Agencies, including governmental, professional, and advocacy organizations that have proven to be vital in improving EHDI programs.
Implement new initiatives to address the most urgent gaps identified by MCHB, State EHDI Coordinators, current collaborators, and other EHDI experts. These initiatives will focus on resource and promising practice development and dissemination, public awareness activities, education and training, policy and financing initiatives, and evidence-based data collection for quality assurance.
Through these and other activities, we look forward to supporting all individuals and entities serving children and families in EHDI programs.