May is Better Speech and Hearing Month!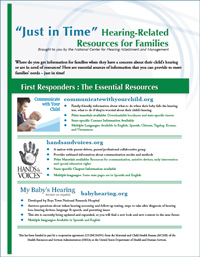 What are you doing to raise awareness about communication concerns in children? Below are links to two different resources to help encourage ways to think about steps you can take to help families and professionals.
Families who are concerned about their child's hearing often don't know where to turn for help. Doctors and family resource organizations can help by linking families to these Just in Time resources [PDF]. There is a Spanish version [PDF] as well.
ASHA-certified audiologist Dr. Patti Martin talks about what to expect from a newborn hearing screening, why it is important, and how to identify the signs of hearing loss within the first year of a child's life. (This podcast was posted with the permission of the American Speech-Language-Hearing Association.)
(((NCHAM serves as the National Resource Center for the implementation and improvement of comprehensive and effective Early Hearing Detection and Intervention (EHDI) systems. As a multidisciplinary Center, our goal is to ensure that all infants and toddlers with hearing loss are identified as early as possible and provided with timely and appropriate audiological, educational, and medical intervention.
Events and News
NCHAM is thrilled to announce that our proposal to the Funding Opportunity Announcement HRSA-15-085, National Technical Resource Center (NTRC) for Newborn Hearing Screening and Intervention has been funded for the period of April 1, 2015 to March 31, 2020. We are excited about continuing to work on efforts and activities to improve newborn hearing screening, diagnosis, and intervention programs. A copy of the abstract NCHAM submitted is found here [PDF]
Upcoming NCHAM Events


NCHAM serves as the National Technical Resource Center for all state-based Early Hearing Detection and Intervention (EHDI) programs in the United States. Materials and activities described on this website were funded in part by a cooperative agreement (U52MC04391) from the Maternal and Child Health Bureau (MCHB) of the Health Resources and Services Administration (HRSA) at the United States Department of Health and Human Services. NCHAM staff are responsible for the views and content of material on this website and no endorsement by MCHB/HRSA is implied or expressed.
Disclaimer: The information provided in the newsfeed is only intended to be general summary information to the public based on articles written by the media. NCHAM seeks to promote dialogue about issues related to hearing loss in children including current research, changes in legislation, treatment & diagnosis, etc. and does not necessarily endorse the information contained in the articles posted. Any views or opinions presented remain the responsibility of the media source publishing the article.