Spread the Word
1. Identify Your Audience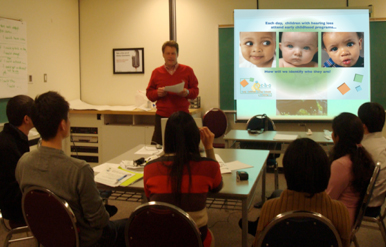 Determine who could benefit from learning about OAE screening for infants and toddlers and/or the resources of the ECHO Initiative including:
Early Head Start, early intervention, and home visitation programs (i.e. Parents as Teachers Affiliates).
Pediatric Audiologists, Speech Language Pathologists, and Health Care Providers who may be interested in supporting the development of community-based OAE screening programs.
Media/Press/General public who need to know about the benefits of OAE technology for infants and toddlers and the need to make screening available universally.
2. Determine Form of Communication
3. Select Resources to Share
Incorporate introductory text/print and video resources in what you share with others. Note that video segments can be streamed or downloaded. They may be viewed from a computer-based video player or inserted into a PowerPoint presentation and played from there.
| Resources | Video (Streaming) | Electronic Text & Print Handouts |
| --- | --- | --- |
| Preview | | |
| Introductory Overview | | |
| Demonstrations | | |
| Testimonies and Reflections | | |