Last Modified: 05/20/2015
Interactive Web Based Newborn Hearing Screening Training Curriculum
This curriculum was developed to standardize the way screeners are trained and to improve the quality of care for newborn hearing screening and follow-up. It will give screeners and stakeholders an understanding of the comprehensive nature of a quality program and provide the necessary foundation and tools to do a thorough job in their role.
With the interactive course, screeners have the ability to easily access the curriculum on the web and to learn at their own pace. It has been updated to provide adult learning activities and to check knowledge gained going through the course. In addition, there are a number of related resources, and supplemental materials and links; for example, screeners who may want to learn more about their specific state EHDI Program can click on a link that will take them directly to their state EHDI profile. There are also updated scripts for screeners to use when communicating with parents in English and Spanish, etc.
Although there are video demonstrations of babies being screened, this course does not endorse any specific type of equipment nor does it include "hands-on" equipment specific training. As it is important to incorporate "hands-on" training and competencies as part of training a screener, a Skills Checklist is included in the Resource Section to provide guidance in facilitating this component.
Technical Requirements
This online course requires Internet Explorer version 9 or higher, Chrome, Firefox, or Safari. Users must have Flash enabled, cookies enabled, and popups allowed.
To view the NHSTC course on your iPad
The interactive NHSTC course utilizes Flash technology, which is not supported on iOS devices. However, if you want to use the iPad to view the course (and other Flash sites and videos on the web), you can try a Flash-enabling app such as Photon Flash Player for iPad.
---
NHSTC, Certificate Version
To Earn a Certificate of Completion and AAA CEUs
Take the pre-test, post-test with an 80% or better and the self-assessment surveys and you will receive a certificate of completion via email.
AAA CEUs
AAA CEUs were available for this course in 2014. AAA CEUs are pending for 2015.
NAPNAP CE Contact Hours
National Association of Pediatric Nurse Practitioners (NAPNAP) CE Contact Hours are available for this course, 2 hours. This course is Beginner level. In order to receive CE Contact Hours you must take the above steps to complete the entire course in our Learning Management System (Moodle), and pass the exam with a score of 80% or better. There is no charge for this course.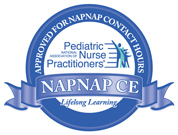 NHSTC Re-Certification
The NHSTC can be retaken for re-certification. Just login to Moodle with the same account that you used in the past, skip the pre-test, and continue with the rest of the course material. Complete the post-test with an 80% or better, fill out the certificate of completion request survey, and you will receive a certificate from us via email.
Certificate/ Course Completion Verification Requests: It is our policy that when a group requests verification of completion for our curriculum that a copy of the signed agreement from the course participant allowing for this disclosure be emailed to us for our records. Please contact Beth Blaser to inquire or for more information.
---
NHSTC Non-Certificate Version
if you are not interested in earning a Certificate of Completion and/or CEUs/ CE Contact Hours, you can watch the course instantly online, order a DVD, or view the NHSTC on your iPad (see instructions above).