Last Modified: 09/04/2018
VII. Evaluating Tele-Intervention Outcomes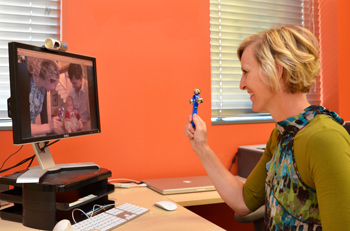 Featured Articles/ Presentations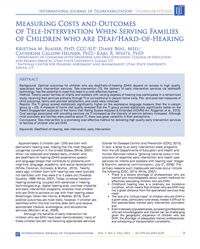 On This Page
Outcomes of TI for Investigation
As with any type of intervention, evaluating TI is critical to ensure that it is in fact resulting in the desired outcomes:
Increased parent knowledge, skills/competence in fostering development, and satisfaction with services and providers, increased competence with technology
Increased Child developmental/communication outcomes
Improved parent-child interaction
Additionally, it is important to measure the impact of TI on the following additional outcomes that are associated with delivery of TI:
Increased frequency and intensity of intervention
Provider skills/competence in coaching
Incorporation of natural routines
Decreased costs, considering travel time, opportunity cost to providers as well as families
There are also factors that can influence outcomes that are important to capture:
How much acoustic and visual clarity is needed in the technology used?
Can the provider offer needed emotional support to families when needed via TI?
Does TI work for various interventions?
Are some parents/children a better fit?
Are some "interveners" a better fit? An important place to start in evaluating the cost-effectiveness of TI is to develop a logic model.
Do some internet connection options (i.e., wifi, wired connection, hotspots) work better in some areas?
Creating a Logic Model to Guide Evaluation
A logic model serves to guide the identification of measurement tools to answer questions such as those posed above. A logic model is a way to graphically depict the resources, actions, and expected results of an intervention. Here are some resources to guide develop of a logic model:
Download an example of a logic model developed by NCHAM [PDF]
Selecting Measurement Tools and Administration
A logic model serves to guide the identification of tools to measure outcomes. The table below corresponds with the NCHAM logic model, delineating the constructs to be measured, the tools to be used, and the frequency of data collection. Creating an outline such as the one provided below is important in creating your evaluation plan. Creating such a table helps ensure that your evaluation plan is comprehensive but also practical in regard to your capacity to employ all the measurement activities.
Measurement Tools and Administration (NCHAM, 2011)

Model of Change Component
Instruments
Description & Administration
Frequency of Administration
Service delivery: Dosage
Provider contact logs: Number & duration of sessions conducted; other providers involved; Interruptions in service delivery (technology problems, cancellations, other home visit interruptions)
Provider self-report contact form completed weekly by each family in the study
Each scheduled session
Service delivery: Technology satisfaction
Family Technology Survey & Provider Technology Survey
Self-report survey completed by both families & providers in tele-intervention group
Pretest; every 6 months
Service delivery: Audiology

Interventionist Hearing & Technology Management Log
Audiological Services Record

Provider report
Provider report

Each scheduled session
Each scheduled session

Service delivery: Costs

Provider cost form, program cost form, time diary
Family Services and Cost Survey

Researcher-developed measures on cost and time data completed by program and providers
Family telephone survey regarding services/supports received & associated costs to the family

Every month
Every 6 months

Family-centered Care, Parent Knowledge & Competence

Home Visit Rating Scales—A; subscales re: parent-child interaction & engagement
Parental Involvement & Self-Efficacy (SPISE)
Language sample: Whitehurst, et al. (1988) coding scheme applied to videotaped sessions

Standardized rating scales coded by research staff
Parent self report survey
Standardized instructions for parent- child activity; parent Mean Length of Utterance (MLU) coded by research staff

Pretest; 1 visit per month
Pretest; every 6 months
Pretest; 1 visit per month

Natural Environments & Provider Coaching

Home Visit Rating Scales, subscales re: home visitor
Coaching Practices Rating Scale
Natural Environments Rating Scale

1-3. Standardized rating scales coded by research staff from videotaped sessions

Every month
Every month
Every month

Child Communication and Development Outcomes

MacArthur-Bates Communication Development Inventory/Inventarios
Battelle Developmental Inventory -2
Preschool Language Scale 4 (PLS-5)
Language sample
Auditory Skills Checklist

Norm-referenced (ages 8-37 mos.) Parent self-report measure; Spanish version available; administered by providers
Norm-referenced (birth – 7 yrs 11 mos.), English/ Spanish versions, administered by research staff
Standardized (birth- 6 yrs 11 mos.), receptive & expressive communication; English & Spanish versions, administered via research staff
MLU's measured via coding of standardized activity by research staff
Provider–scored checklist

Pretest; every 6 months
Pretest; every 6 months
Pretest; every 6 months
Pretest; monthly
Pretest; monthly
Recent TI Evaluations
Several studies to measure actual differences between services provided by tele-intervention and face-to-face home visits have been conducted with families who have children who are DHH, and there are relevant studies of TI conducted with other EI populations. Here is a literature review of recent publications that support the use of TI as a cost-effective, family-centered approach to delivering EI services:
Featured Articles/ Presentations
Read about the latest research about tele-intervention for families of infants and toddlers with disabilities:
Behl, D.D., Blaiser, K., Cook, G., Barrett, T., Callow-Heusser, C., Brooks, B.M., Dawson, P., Quigley, S., & White, K. (2017) A Multisite Study Evaluating the Benefits of Early Intervention via Telepractice Infants & Young Children, 30 (2), 147-161.
Measuring Costs and Outcomes of Tele-Intervention When Serving Families of Children who are Deaf/Hard-of-Hearing

[PDF]

Constantinescu, G. (2012) Satisfaction with telemedicine for teaching listening and spoken language to children with hearing loss

[PDF]

. Journal of Telemedicine and Telecare 2012; 18: 267–272.
Baharav, E., Reiser, C. (2010) Using Telepractice in parent training in early autism. Telemedicine and e-Health v.16 (6) 727-731.
Cason, J. (2011) Telerehabilitation: An adjunct service delivery model for early intervention services

[PDF]

. International Journal of Telerehabilitation.v. v3 (1) 19-28.
Kelso, G.L, Fiechtl, B.J., Olsen, S.T., Rule, S. (2009). The feasibility of virtual home visits to provide early intervention. Infants and Young Children, v.22 (4) 332-340.
Mashima, P.A., Doarn, C.R. (2008). Overview of Telehealth Activities in Speech–Language Pathology

[PDF]

. Telemedicine and e-Health v.14 (10) 1101-1117.
McCarthy, M., Munoz, K., White, K.R. (2010). Teleintervention for infants and young children who are deaf or hard-of-hearing. Pediatrics. 126 Suppl 1:S52-8.