Last Modified: 06/14/2023
Medical Home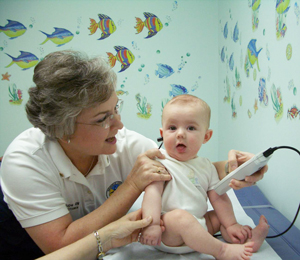 Several years ago, the American Academy of Pediatrics (AAP) and the Maternal and Child Health Bureau of the U.S. Department of Health and Human Resources began promoting the concept that every child in America should have a medical home. The AAP defines a medical home as the following [PDF]:
A medical home is an approach to providing comprehensive primary care that facilitates partnership between patients, physicians, and families. The American Academy of Pediatrics (AAP) believes that every child deserves a medical home, where care is accessible, continuous, comprehensive, patient- and family-centered, coordinated, compassionate, and culturally effective. Over the past year the AAP has been at the forefront of numerous initiatives to promote the adoption and spread of the patient- and family-centered medical home.
In the pediatric population, a medical home should include:
Patient- and family-centered partnership: A medical home provides patient- and family-centered care through a trusting, collaborative, working partnership with families, respecting their diversity, and recognizing that they are the constant in a child's life.
Community-based system: The medical home is an integral part of the community-based system, a patient- and family-centered coordinated network of community-based services designed to promote the healthy development and well being of children and their families. As such, the medical home works with a coordinated team, provides ongoing primary care, and facilitates access to and coordinates with, a broad range of specialty, ancillary, and related community services.
Transitions: The goal of transitions is to optimize life-long health and well-being and potential through the provision of high-quality, developmentally appropriate, health care services that continue uninterrupted as the individual moves along and within systems of services and from adolescence to adulthood.
Value: Recognizing the importance of quality health care, appropriate payment for medical home activities is imperative. A high-performance health care system requires appropriate financing to support and sustain medical homes that promote system-wide quality care with optimal health outcomes, family satisfaction, and cost efficiency.
In March 2007, the AAP joined with the American Academy of Family Physicians (AAFP), American College of Physicians (ACP), and the American Osteopathic Association (AOA) to publish the Joint Principles of the Patient-Centered Medical Home [PDF]. This consensus statement describes seven principles of a medical home, which include: personal physician, physician-directed medical practice, whole-person orientation, coordinated care, quality and safety, enhanced access, and appropriate payment.
The Medical Home and EHDI
Links to Additional Medical Home information
National Center for Medical Home Implementation (NCMHI) Resources Medical Home Interview Videos
Tutorials Include:
Building Your Medical Home: An Introduction to Pediatric Primary Care Transformation
National Center for Medical Home Implementation Web site
Pediatric Medical Home State-Based Resources
AAP EHDI Chapter Champions
Each American Academy of Pediatrics (AAP) Chapter has identified at least one pediatrician member to serve as the EHDI Chapter Champion. This individual is responsible for leading and responding to health care provider concerns regarding newborn hearing screening in the state. They are also involved in working with their state department of human services/department of public health staff and other in state government agencies as well as other pediatric health care providers in the state on EHDI programs and activities.
AAP Fact Sheets and Other Resources from the AAP Task Force on Improving Newborn Hearing Screening, Diagnosis, and Intervention

The following resources and more information can be found at the AAP website (posted here with permission).
Family Voices (FV)
Institute for Patient- and Family-Centered Care
Task Force on Improving the Effectiveness of Newborn Hearing Screening, Diagnosis and Intervention
The EHDI Task Force on Newborn and Infant Hearing has developed educational materials for both professional and public audiences:
EHDI E-mail Express
The EHDI E-mail Express is a monthly e-newsletter from the AAP Improving the Effectiveness of Newborn Hearing Screening, Diagnosis and Intervention through the Medical Home project. It is designed to provide AAP EHDI Chapter Champions and EHDI stakeholders with resources and current clinical and other relevant information. Contact Faiza Khan, if you would like to subscribe.
EHDI E-Book
Details the Importance of Appropriate & Timely Screening, Diagnosis, Management & Follow-up.
Additional resources