Last Modified: 06/15/2023
Newborn Hearing Screening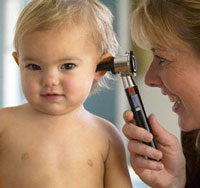 Left undetected, hearing impairments in infants can negatively impact speech and language acquisition, academic achievement, and social and emotional development. If detected, however, these negative impacts can be diminished and even eliminated through early intervention. Because of this, the National Institutes of Health's (NIH) Consensus Development Conference on Early Identification of Hearing Loss (1993) concluded that all infants should be screened for hearing impairment, preferably prior to hospital discharge.
At the time of the NIH Consensus Development Conference, there were only 11 hospitals screening more than 90 percent of their babies. Since then, there has been a rapid increase in the number of universal newborn hearing screening (UNHS) programs which have been implemented in the United States.
Newborn Hearing Screening Resources
In helping many of these hospitals, we have developed some resources to aid in the establishment and operation of UNHS programs. Additionally, we maintain early hearing detection and intervention (including UNHS) information about U.S. states, territories and commonwealths.
To browse our collection of newborn hearing screening resources, visit:
For information regarding the status of newborn hearing screening in the United States, visit: