Last Modified: 08/23/2016
Early Intervention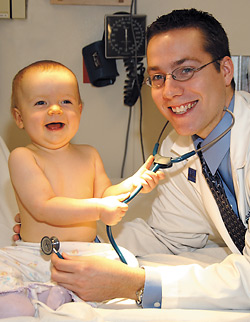 The information in this section is intended for parents of children with hearing loss and professionals working with families. When a child is identified with a hearing loss, parents and family members often seek new knowledge and resources to help them understand issues related to hearing loss and to make decisions for their families and children. Early intervention professionals may also need additional resources to help them assist families.
Early intervention is a broad area and can be challenging to navigate. In fact, in a letter [PDF] sent in July 2006 to all state early intervention coordinators, officials in the federal government noted that "many young children with hearing loss may not be receiving the early intervention or other services they need in a timely manner that will enable them to enter preschool and school ready to succeed."
The information included in this section is designed to provide both basic information and resources to assist in finding additional information so that parents and other concerned individuals can advocate for improved early intervention services for infants and young children with hearing loss. Additional resources for achieving this goal include your State Department of Health and/or the agency in your state responsible for early intervention services. Many states have also developed parent resource manuals and have staff available to assist parents.
As with any new area of learning, understanding all the vocabulary associated with early intervention can often be a challenge. An explanation of the terms associated with hearing, communication, and early intervention, is available on the Texas Connect website at UT Dallas/Callier Center for Communication Disorders. (*Español: Términos & Definiciones)
Basic information on hearing loss including how the ear works, types of hearing loss, audiograms, and simulations of varying levels of hearing loss is available through Boys Town National Research Hospital website, My Baby's Hearing: All About Hearing Loss (*Español: Todo Sobre La Perdida Auditiva)
Early Intervention Resource Pages
Related Pages on infanthearing.org
NCHAM Early Intervention Materials
Other Materials
Other Early Intervention Resources and Websites