Last Modified: 10/15/2019
Financing & Reimbursements
Financing
Financing needed for hearing devices is often a challenge for families of children who are deaf or hard of hearing. Public and private insurance programs and nonprofit organizations can help meet these needs. The following resources provide specific contact information for accessing financial assistance:
Reimbursement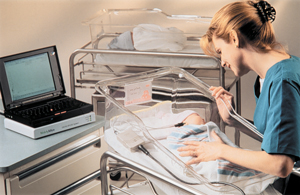 Reimbursement for health care services is dependent upon the use of codes to identify:
Procedures performed (CPT codes)
Diagnosis or diagnoses (ICD-9-CM codes)
Certain devices, supplies and equipment acquired for the client (HCPCS Codes)
Accurate coding is essential for claims submitted to third payers. The healthcare services coding system that is used is regulated by the Centers of Medicare and Medicaid Services (CMS). CMS established recognized code sets under the Health Insurance Portability and Accountability Act (HIPAA):
CPT (Current Procedural Terminology)
The CPT coding system describes how to report procedures or services performed such as a hearing screening test. The CPT system is maintained and copyrighted by the American Medical Association. Each CPT code has five digits.
ICD-9-CM (International Classification of Diseases, 9th revision, Clinical Modification)
The ICD-9 coding The ICD-9-CM is maintained by the National Center for Health Statistics of the U.S. Public Health Service. Each ICD-9 code has 3 numeric digits followed by decimal point. Note that ICD-9-CM V codes are used to record a condition influencing health status or broad types of procedural, administrative or screening encounters. They are often not accepted for billing purposes by third party payers.
*Important Note: According to the National Center for Health Statistics (the Federal agency responsible for use of the International Statistical Classification of Diseases and Related Health Problems), the 10th revision ICD-10-CM is now available for public viewing. Please note that the codes in ICD-10-CM are not currently valid for any purpose or use. The effective implementation date for ICD-10-CM (and ICD-10-PCS) is October 1, 2013.
HCPCS (Healthcare Common Procedures Coding System)
HCPCS codes are used to report supplies, equipment, and devices provided to patients such as hearing aid. A limited number of procedures not otherwise contained in the CPT system are also found here. HCPCS is alphanumeric and is administered by the Centers for Medicare and Medicaid Services (CMS) in cooperation with other third party payers.
Billing and Reimbursement Codes for Hearing (all ages)
What are the OAE and ABR hearing testing codes (CPT)?
The hearing testing codes have been updated for 2012 implementation. The codes are listed in the 2012 CPT Codebook in sequence and include the Medicare physician fee schedule national payment rates. The actual payments received are adjusted by the relevant geographic index.
There are several codes that are used to describe early hearing detection testing to a payer. The procedure codes are divided into screening and evaluation codes:
CPT Code
Description
When to use
92558 (OAE Screening Code)
Evoked Otoacoustic Emissions, screening (DPOAE or TEOAE), automated analysis
When performing an automated pass/fail screen, with a fixed or limited number of frequencies at a single intensity level. Most OAE newborn screenings will fall in this category.
*92587 (OAE Limited Diagnostic Code)
Distortion Product Evoked Otoacoustic Emissions Limited evaluation (to confirm the presence or absence of a hearing disorder, 3-6 frequencies) or Transient Evoked Otoacoustic Emissions, with interpretation and report
When 3-6 frequencies are tested bilaterally and includes the interpretation of the test with reporting of the results in the patient's medical record.

Audiologists performing both tests (DPOAEs & TEOAEs) may seek additional reimbursement by using the -22 modifier in conjunction with CPT 92587.
*92588 (OAE Comprehensive Diagnostic Code)
Comprehensive Diagnostic Evaluation (quantitative analysis of outer hair cell function by cochlear mapping, minimum of 12 frequencies), with interpretation and report.
When at least 12 frequencies are tested bilaterally. If fewer than 12 are performed, the appropriate code is 92587 (see above). A report is required to document the test results.
92586 (ABR Screening Code)
Auditory evoked potentials for evoked response audiometry and/or testing of the central nervous system, limited.
When performing an automated pass/fail screen. Use this code for screening.
*92585 (ABR Diagnostic Code)
Auditory evoked potentials for evoked response audiometry and/or testing of the central nervous system, comprehensive.
When performing a diagnostic ABR. Use this code for diagnostic testing.
* These codes are typically used by Audiologists as part of a diagnostic evaluation and are not appropriate for hospital newborn hearing screening programs.
What are the Hearing Diagnosis Codes (ICD-9)
ICD-9 codes are used to describe screening and evaluation results. Those who must provide a diagnosis should use codes that provide the highest degree of accuracy and completeness or greatest specificity. Usually that means providing an ICD-9 code carried to the 5th digit. These codes start numerically at 388.0 through 389.9.
There are codes too numerous to list here; however, this document provides a complete list of all the hearing and speech ICD-9 diagnosis codes [PDF].
How should "normal hearing" results be coded when performing a hearing screening or an audiological evaluation?
Medicare's policy is that you should code for the sign(s) or symptom(s) that prompted the test to be ordered. For instance, a newborn fails an infant hearing screening and is referred for follow up testing which results in normal findings. In this situation, 389.9 (Unspecified hearing loss) would be appropriate.
Private health plans often follow Medicare policies. It is important that you check with the plan in question.
Example of Diagnosis Codes Used for Hearing Screening
Reason for Screening
Screening Outcome
Coding Example
Child receives OAE rescreen due to refer on previous screening
Refer on OAE
389.9
Pass OAE
389.9 V72.11
Child receives OAE screen in response to specific concern(s)
Refer on OAE
389.9, and code for concern such as 315.31 Delayed Speech
Pass OAE
389.9, and code for concern such as 315.31
Child receives OAE screen as a routine part of well-child checkup; no specific concern(s)
Refer on OAE
389.9
Pass OAE
V72.19
Why is the 389.9 code used for a screen or rescreen (in the first two examples above) that results in a pass? Because Medicare's policy is that you should code for the sign(s) or symptom(s) that prompted the test to be ordered. Children who refer on OAE screening can typically be coded as 389.9—unspecified hearing loss—based on the following: "If the diagnosis documented at the time is qualified as 'probable,' 'suspected,' 'likely,' 'questionable,' 'possible,' or 'still to be ruled out,' code the condition as if it existed or was established."*
*ICD-9-CM Official Guidelines for Coding and Reporting, p. 48.
Notes on V codes
As shown above, whenever possible, other ear, hearing and communication disorder diagnosis codes should be used before using a V code. Children with high-risk factors can be coded on that basis. In these cases, the signs and symptoms, chief complaint, or reason(s) for the encounter should be reported as the primary diagnosis. The provider can also use additional codes that describe any coexisting or chronic conditions. Do not code conditions previously treated that no longer exist—although history codes may be used as secondary codes if the historical condition or family history has an impact on current care or influences treatment. Medicaid and most private insurance providers will cover one hearing screening annually.
V codes are contained in a separate chapter of the ICD-9-CM manual and are a "supplementary classification of factors influencing health status and contact with health services". They range from V01 to V82. (2012 ICD-9-CM Diagnosis Codes Related to Speech and Hearing Disorders, effective October 2011)
This web page is meant to be an introduction and summary for pertinent billing and reimbursement procedures. It is not the intent of this page to be a comprehensive review of Billing and Reimbursement. The following links will provide in depth information on this complex issue: