Last Modified: 09/11/2018
Family Support and Partnership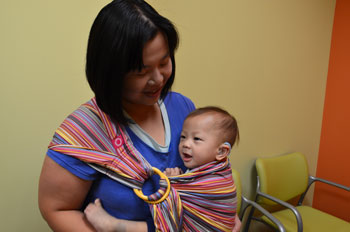 Family support is an essential component of an effective EHDI system. EHDI coordinators and other stakeholders, such as the medical home and audiologists, have a responsibility to ensure:
Families are supported: EHDI systems must ensure that families get access to culturally-competent information to help them make informed decisions. This also includes providing access family support groups to help provide emotional support as only other caregivers can offer.
Families are partners in decision making: EHDI systems must honor family decisions about what is best for their own child and family. At a systems level, families with diverse perspectives can offer their expertise to guide EHDI practices and policies, resulting in more family-centered EHDI systems.
Just in Time Tool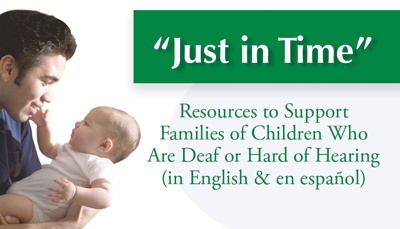 The "Just in Time" tool [PDF] is designed especially for family organizations to help them in their job to support families. It contains the most essential resources identified by both families and professionals to address hearing-related needs. Family organizations, such as Family Voices, Family-to-Family Health Information Centers, Parent Training and Information Centers, and Parent-to-Parent USA chapters are invited to do the following:
Post it on your website, allowing the hyperlinks to take the reader directly to critical information.
Highlight the resource in your next staff meeting or conference call.
Send it electronically to your local and state partners so they also can use it.
Have it available as a hard-copy handout to share with families who prefer that format.
Note the emphasis on resources with information available in other languages.
"Just in Time" Hearing-Related Resources for Families
Where do you get information for families when they have a concern about their child's hearing or are in need of resources? Here are essential sources of information that you can provide to meet families' needs – just in time!
First Responders: The Essential Resources
Family-friendly information about what to do when their baby fails the hearing test, what to do if they're worried about their child's hearing
Print materials available: Downloadable brochures and state-specific inserts
State-specific Contact Information Available
Multiple Languages: Available in English, Spanish, Chinese, Tagalog, Korean, and Vietnamese.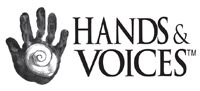 A nation-wide parent-driven, parent/professional collaborative group
Provides unbiased information about communication modes and methods
Print Materials available: Resources for communication, assistive devices, early intervention and special education rights
State-specific Chapter Information available
Multiple languages: Some state pages are in Spanish and English

Developed by Boys Town National Research Hospital
Answers questions about infant hearing screening and follow up testing, steps to take after diagnosis of hearing loss, hearing devices, language & speech, and parenting issues
This site is currently being updated and expanded, so you will find a new look and new content in the near future
Multiple languages: Available in Spanish and English
More Helpful Resources....

Features programs and services about understanding hearing loss & how hearing is tested; finding professionals with expertise in serving babies with hearing loss; fitting a baby with a hearing device, and family support groups
Lists national organizations and state contacts
Multiple languages: Available in Spanish and English

Information about how to pursue financing for hearing devices via private insurance, Medicaid, Medicare, and charities
State Specific information: State regulations pertaining to laws covering hearing aids is provided
Offers information about options and considerations on how to select a communication approach for their child
Especially useful for families using a listening and spoken language approach
Provides information and resources to help families learn how to provide access to communication as early as possible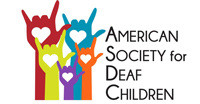 Oldest national organization founded by and governed by parents of deaf and hard of hearing children
Supports and educates families as well as advocates for high quality programs and services
First Year Free membership available for families who have deaf or hard of hearing children
"Deaf Autism America" strives to enhance the quality of life for Deaf and hard of hearing children with autism
Parent Roadmap
Learning About Hearing Loss:
A Roadmap for Families [PDF]
Parent Roadmap (en español) [PDF]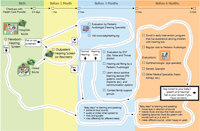 Resources for Building Family-Professional Partnerships
Other Resources that may be of interest:
NCHAM Pages and Materials
Other Materials and Websites