Last Modified: 09/15/2023
Deaf and Hard of Hearing Adult Involvement With Families of Deaf or Hard of Hearing Children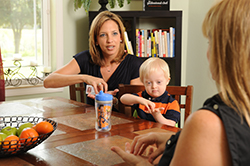 Adults who are deaf or hard of hearing (D/HH) can provide families with valuable support from the perspective of lived experience. There are many different ways to involve adults who are D/HH in supporting families, but this kind of support usually involves one-to-one interaction. Depending on the activities and type of support offered, adults who are D/HH in these roles may be referred to by one or more of the following terms:
Mentors
Role Models
Guides
Partners
Additional information about involving adults who are D/HH in EHDI programs is available in the following areas:
Information about Programs and Resources. NCHAM maintains information about programs that offer opportunities for families to interact with adults who are D/HH as well as information about resources, tools and support for managing such programs. To locate a program near you or find information about an existing program in your state, visit our searchable database. Please contact us to let us know about additional programs that are not included in the current list.
NCHAM also collaborates with the Family Leadership in Language and Literacy (FL3) Project which is working to enhance the involvement of adults who are D/HH in EHDI programs.