Last Modified: 06/23/2023
Web Resource Guide: Website Improvement Project
Let us know what is important to you about your EHDI website. Take a short survey to help us improve the Web Resource Guide.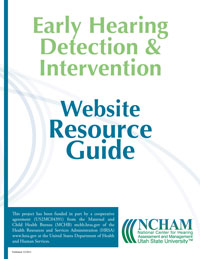 This project has been funded in part by a cooperative agreement (U52MC04391) from the Maternal and Child Health Bureau (MCHB) of the Health Resources and Services Administration (HRSA) at the United States Department of Health and Human Services.
Introduction
State Early Hearing Detection and Intervention (EHDI) programs play an important role in ensuring the availability of accurate and user-friendly information pertaining to hearing screening, diagnosis, and early intervention services. Recognizing the importance of user-friendly and informative websites, NCHAM has created this EHDI Website Resource Guide, which is designed to provide information and examples of critical components of a high-quality website that meets the mission of EHDI.
The EHDI Website Resource Guide is written with the intent to strengthen the knowledge base of state EHDI administrators in understanding key elements of effective websites. It also serves to guide EHDI administrators in working with needed partners, particularly to communicate their needs with the people who design, develop, and market their websites. The content was created by a panel of EHDI partners, including those that have been recognized for their websites by receiving the "EHDI website of the year" award. This resource guide is not exhaustive in its coverage of the "ideal website." Rather, it is a list of guidelines that can help in deciding content for stakeholders and making the information more accessible to everyone.
A critical aspect of this guide is to help EHDI administrators understand the importance of having a standards-compliant website that is accessible for persons with disabilities. Since EHDI programs receive federal funding, all EHDI websites must comply with Section 508 of the U.S. Rehabilitation Act Standards.

Federal agencies are required to make their electronic and information technology (EIT) accessible to people with disabilities. This includes web-based intranet and internet information and applications.
The icon in the top left corner represents the guidelines that comply with Section 508 standards within this guide.
It is vital to be aware of laws and standards which are created for the web to ensure that people who have visual, hearing, motor, or cognitive disabilities are not restricted from access to information. Other critical components in this guide have been identified using the Web Content Accessibility Guidelines (WCAG) developed by the World Wide Web Consortium (W3C), an international community that develops open standards to ensure the long-term growth of the Web through standardization of Web technologies. An accessible website benefits everyone whether they have a disability or not.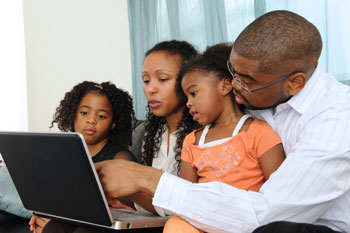 There are five sections included in this resource guide. The first three deal with identifying critical components in the areas of Content, Design and Layout, and Accessibility, which can be used to guide improvements. A description of each critical component is given, followed by examples that best reflect the ideas presented, and some resources that can be used to help improve the site. The fourth section is a checklist of all critical components that can be used as a tool to assist in analyzing your EHDI website. The final section Management and Marketing, is a compilation of important considerations that can effect the success of your state's EHDI website.
Website Resource Guide Table of Contents
Overview of State's EHDI Program
Information about: Screening, Diagnosis, Early Intervention, Family Support, Surveillance
Information for various stakeholders: Families, Healthcare Providers, Interventionist
Organization
Style of presentation
Navigation
Visual Media
Browser Compatibility
Keyboard Accessible
Links
Health Literacy
Website Marketing

Brand identity
Word- of-Mouth Promotion
Promotional Materials
Social Networking
Search Engine Optimization

Continuous Quality Improvement (CQI)

Website Improvement Strategy
Maintenance
EHDI websites are used as examples throughout the guide to display different aspects about the criteria. No one site is being suggested as the best or the correct way to present information or how to design an EHDI website. Resources are provided to give additional information or tools that can help EHDI administrators in evaluating and making improvements to their sites. NCHAM recognizes that EHDI state administrators have their own needs and constraints that must be considered prior to making adjustments to their website. Therefore, it is important to emphasize that this guide serves as a support, offering suggestions that we hope can be applied in a pragmatic manner.
Best of EHDI Website Awards
The annual "Best of EHDI Website" award is used to recognize state EHDI websites that do the best job of providing:
Accurate, useful, timely, and comprehensive information that contributes to the accomplishment of 1-3-6 milestones for infants and young children who are deaf or hard of hearing.
Information for various EHDI stakeholders (families, healthcare providers, and interventionist) as well as correct info about the EHDI process.
Appropriate and visually appealing design and layout that allows for ease of finding information.