Last Modified: 06/21/2023
Telehealth and EHDI Systems
What is "Telehealth"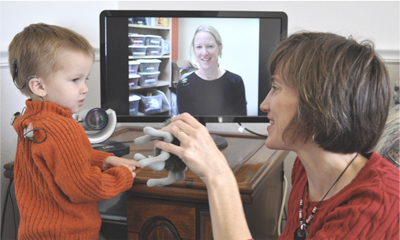 Telehealth is the use of electronic information and telecommunications technologies to support long-distance clinical health care, patient and professional health-related education, public health and health administration. https://www.hrsa.gov/rural-health/telehealth/index.html
What are some examples of Telehealth technologies?
Technologies used in telehealth typically are: videoconferencing, the Internet, store-and-forward imaging, streaming media, and terrestrial and wireless communications.
What is "Telepractice?"
Telepractice encompasses a broader range of services. Groups such as the American Speech Language Hearing Association (ASHA) define telepractice as "the application of telecommunications technology to delivery of professional services at a distance by linking clinician to client, or clinician to clinician, for assessment, intervention, and/or consultation." Telepractice is used to provide services such as speech/language therapies and early intervention services, particularly to families who live far from specialists.
How are EHDI systems involved in Telehealth or Telepractice?
An NCHAM survey completed by 48 states and 4 territories in August/September of 2010 revealed:
42% had some telehealth efforts underway or planned
Telehealth services were primarily Diagnostic ABR's
Telepractice services were primarily early intervention and communication-related therapies
What are some examples of EHDI systems efforts?
The Tele-intervention Resource Guide highlights recommended practices for providing early intervention services to families of infants and toddlers with hearing loss via distance technologies. Based on the work of six pioneering early intervention programs, the guide offers important information about technology considerations, licensure and reimbursement, as well as how to ensure privacy and security.
Resources
American Telemedicine Association
Telehealth Resource Centers
Telehealth Resource Centers (TRCs) assist organizations, providers and communities in implementing cost effective and sustainable telehealth programs. TRCs are HRSA- designated focal points for information and resources to advance the use of telehealth, including issues regarding reimbursement. The Telehealth Resource Centers are supported by grants from the Office for the Advancement of Telehealth.
You can also contact any of the regional centers listed below:
The CIO's Guide to HIPAA Compliant Text Messaging
From mHealthIntelligence.com:
There is high demand amongst healthcare providers to use text messaging as a fast, convenient way to communicate and collaborate with colleagues. However, it's important to know the risks associated with sending Electronic Protected Health Information (ePHI) via unencrypted text messaging, especially given the climate of rising enforcement of compliance with The Health Insurance Portability and Accountability Act (HIPAA) and The Health Information Technology for Economic and Clinical Health (HITECH) Act. Download this useful resource on ensuring secure text messaging.
The Telehealth Adoption Toolbox has been developed by the Telehealth Resource Centers, compiling a range of resources relevant to all stages of planning, executing, and evaluating the implementation of telehealth. In addition, they have included publicly available resources as well as resources developed by Health Resources and Services Administration explicitly for this toolbox.
American Speech‐Language‐Hearing Association
HRSA works to increase and improve the use of telehealth to meet the needs of underserved people via this federal office.
Articles