Events > Building Empowered Families
Building Empowered Families: A Workshop for Pediatric Audiologists

February 22nd and 23rd, 2019
Register Online
Idaho's Early Hearing Detection and Intervention (EHDI) program and the National Center for Hearing Assessment and Management (NCHAM) are partnering to offer another exciting training opportunity for audiologists.
Online Instruction required before attending on-site training
There are 4 weeks of online chats (90 minutes each week) with readings during the weeks of January 21st to February 12th. The online chats are followed by a 1.5 day onsite workshop at Idaho State University in Meridian
On-site Instruction will be held at:
Idaho State University – Meridian
1311 E. Central Drive
Meridian, ID 83642
Topics being presented will include:
The Physician's Role in EHDI
Family-centered Audiology Care: Working with Difficult Conversations
The Otolaryngologist Role in EHDI
SLP - Tools for building language
Serving D/HOH+ patients and families
Collaborating with families and professional partners
Building Family competence with technology
Building Cultural Competence with the Muslim Experience and the Hispanic/Latino Experience
This unique opportunity is offered courtesy of the Idaho Department of Health and Welfare. Registration fee includes course materials, online preparation, and on-site teaching with breakfast, lunch, and refreshment break each day. Registration will be provided for the first 25 Audiologists – preference is given to Audiologists who serve Idaho children. Also, two nights hotel (for out of town Audiologists) will be covered for the first 25 registrants-Registration Deadline: January 19th, 2019 Early registration is encouraged since enrollment is limited to 45 participants. Register online at www.infanthearing.org Registration Fee $150
On-site Hotel Location:
Special hotel rates of just $94.00 per night (+ tax) are available at:
Townplace Suites in Meridian
1415 South Eagle Road
Meridian, Idaho, 83642
Book Online
Transportation and Area Airports
Boise - BOI
Airport shuttle service, on request, complimentary
Estimated taxi fare: 20.00 USD (one way)
We reserve the right to cancel or reschedule this event if an insufficient number of registrations are received. In the event of a cancellation, registration fees will be refunded.
For questions regarding registration, please contact: Dr. Karen Ditty at 346-306-6321 or via email
AAA CEUs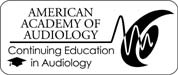 Application has been made for American Academy of Audiology (AAA) Continuing Education Credits. Tier 1 CEUs will also be offered. Utah State University (NCHAM) is approved by the American Academy of Audiology to offer Academy CEUs for this activity. The program is worth a maximum of 18.5 CEUs. Academy approval of this continuing education activity is based on course content only and does not imply endorsement of course content, specific products, or clinical procedure, or adherence of the event to the Academy's Code of Ethics. Any views that are presented are those of the presenter/CE Provider and not necessarily of the American Academy of Audiology.