The National Center for Hearing Assessment and Management (NCHAM) is pleased to announce the first in a series of mini-seminars.
Electrophysiological Procedures for Infant Auditory Assessment: "The Big Picture" By Dr. James Hall
This mini-seminar (presented in Webinar format) will provide focused review and important information needed to accurately diagnose hearing loss in infants.
This webinar was presented on Thursday December 12th, 2013
This mini-seminar includes:
90 minutes of streamed video presentation by Dr. James Hall
30 minutes of live lecture regarding electrophysiological / electroacoustical assessment of infants and toddlers by Dr. Hall
30 minutes of questions and answers from students to Dr. Hall regarding presentation topic
Learner Objectives
Demonstrate familiarity with the anatomy and physiology of the infant auditory system (structure and function)
List objective auditory procedures used clinically for assessment of children
Demonstrate awareness of the JCIH position standards as they relate to Early Hearing Detection and Intervention (EHDI)
Mini-seminar Details
Detailed instructions for accessing the mini-seminar will be provided with confirmation of registration.
AAA CEUs Available
Application has been made for American Academy of Audiology (AAA) Continuing Education Credits. This course offered a total of 2.5 hours (.25 CEU's) of continuing education credit—AAA CEUs are no longer available.
Early registration is encouraged, since enrollment is limited to 100 participants.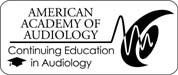 Agenda
Presented one time on December 12th, choose your time zone:
10:45 am – 1:45 pm Pacific Time
11:45 am – 2:45 pm pm Mountain Standard Time
12:45 pm – 3:45 pm Central Standard Time
1:45 pm – 4:45 pm Eastern Time
Times listed below are in Mountain Time; adjust for your personal time zone
11:45 am – 12:00 pm

Welcoming students and instructing on the procedures for the streaming video and the "Go to Meeting" procedures
Dr. Karen Ditty & Dr. Les Schmeltz NCHAM

12:00 – 1:30pm

Streamed Video Presentation of "Electrophysiological Procedures for Infant Auditory Assessment: The Big Picture" via "Go to Meeting" web conferencing
Dr. James Hall

1:30 pm – 2:00 pm

Live lecture with Power Points regarding current updates to electrophysiological / electroacoustical assessment of infants and toddlers via "Go to meeting" web conferencing
Dr. James Hall

2:00 pm – 2:30 pm

Answers and Questions for Dr. Hall regarding topic presentation via "Go to Meeting" web conferencing
Dr. James Hall & Students

2:30 pm – 2:45 pm

Evaluations and Assessments