Early Intervention Program Accountability: A Collaborative, Multi-Faceted Approach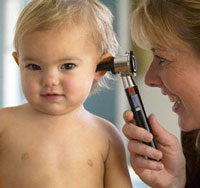 Presented by: Allison Sedey and Dinah Beams
When: January 21st, 1:30 ET
Where: Adobe Connect
Abstract
Early intervention program accountability is maximized when a program is evaluated from a variety of meaningful perspectives, both objective and subjective. This presentation will describe how several state agencies collaborate to ensure that early intervention decisions are evidence based at both the individual child and programmatic levels. One component of this multi-faceted approach to program accountability includes the collection of child outcome measures. We will describe a variety of instruments that we have successfully used to measure child skills and progress across a variety of developmental domains. The integration of these child outcome variables into the state EHDI database also will be described. A second feature of the accountability model that will be presented is a tool used to gather data on families' utilization of and satisfaction with various aspects of the intervention program. Data from early intervention providers also contributes to the program accountability plan. A survey will be shared that documents in-service training needs, perceptions of support from program supervisory staff, and use of program materials. A self-assessment tool measuring individual providers' knowledge and skill set also will be presented.
Bio
Allison Sedey is a speech pathologist, audiologist, and research associate. She works for the University of Colorado-Boulder and the Colorado School for the Deaf and the Blind tracking speech and language outcomes of children who are deaf or hard of hearing between birth and 3 years of age throughout the state of Colorado. She is currently managing a project (NECAP) that involves establishing a national database of language outcomes for children with hearing loss from birth to 4. As part of this project she is assisting interested states in implementing statewide outcomes assessment.
Dinah Beams has an M.A. from the University of Colorado and a B.S. from Southern Methodist University. She is the Program Coordinator for the Colorado Home Intervention Program (CHIP) with the Colorado School for the Deaf and the Blind. Responsibilities in this position include coordinating services for families with newly-identified children; hiring and training providers; supervision; curriculum and program development; and system building. Previous experience includes working as an Outreach Specialist for Beginnings for Parents of Children who are Deaf and Hard of Hearing in Raleigh, North Carolina and as both a classroom and an itinerant teacher in Colorado. Dinah is the author of the CHIP Parent Manual and the Curriculum for Sign Language Instructors, and co-developer of materials for the Integrated Reading Project (IRP), part of Colorado's Early Literacy Development Initiative for young children who are deaf and hard of hearing.
---