Introduction to Audiology and Hearing Loss for Non-Audiologists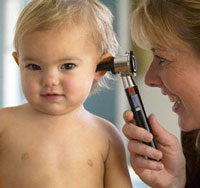 Presented by: Jeff Hoffman, MS, CCC-A; Terry Foust, AuD.
When: Wednesday, September 23rd, at 1:30–2:30 pm ET
Where: Adobe Connect
Abstract
Undetected hearing loss impacts a young child's cognitive, linguistic and social-emotional development. To identify a child's hearing loss, an objective hearing screening is an important first step, followed by an audiologic evaluation. But what do all of those evaluation terms, such as "sensorineural," "decibels," and "tympanometry," mean? The vast majority of people working in and supporting Early Hearing Detection and Intervention programs and Early Care and Education programs are not audiologists and do not have a working knowledge of the audiology concepts and terminology used in newborn and early childhood hearing screening programs and activities. This webinar will describe how the different parts of the ear work, definitions and basic principles regarding hearing loss, and a summary of the most recent reports of congenital and later-onset hearing loss. The types of treatment and intervention for hearing loss will also be included, as well as how audiologists monitor and manage hearing loss and how to work with audiologists.
Learning Objectives
Present important aspects of hearing and hearing loss
Explain how hearing loss is assessed and diagnosed
Outline the types of treatment and intervention for hearing loss
Describe the impact of hearing loss on early development
Explain how audiologists monitor and manage hearing loss.
Presenters
Jeff Hoffman is the Outreach Coordinator for the Early Childhood Hearing Outreach (ECHO) Initiative at NCHAM, Utah State University. Jeff has many years of experience serving as a state EHDI coordinator and working within Head Start. As an audiologist, Jeff's combined experience affords him to be a valuable resource to state EHDI programs and Head Start grantees as they build collaborations to support quality hearing screening and follow-up practices.
Terry Foust, AuD., has implemented and directed large newborn hearing screening programs in Utah and Idaho. He has provided consultation services to the Maternal Child Health Bureau (MCHB), the HRSA Office of Performance Review (OPR), the Medicaid and Medicare Policy Research Center and the NCHAM. He is a National Technical Assistance Network audiologist for NCHAM providing support to state EHDI programs and the Early Childhood Hearing Outreach program. International experience includes work and consultation in Accra (Ghana Africa), Costa Rica, Cairo Egypt, and most recently in Mumbai India. Professional honors include being the first recipient of the newly established Mary J. Webster Distinguished Service Award from the Utah Speech-Language and Hearing Association, recognition by Utah Business Magazine as the 2007 Healthcare Hero of the year as an administrator, the 2006 recipient of the national Larry H. Mauldin award for excellence in audiology education and other honors.
---