A Mentoring Needs Assessment: What Families with Young Children who are Deaf and Hard of Hearing want from a D/HH Adult Mentor or Role Model Program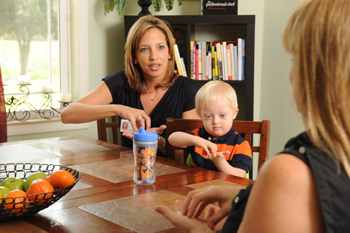 Presented by: Nicole Brown, Danelle Gournaris, and Beth Quist
When: Wednesday, August 24th at 1:30 pm–2:30 pm ET/ 12:30 pm–1:30 pm CT/ 11:30 am–12:30 pm MT/ 10:30 am–11:30 am PT.
Where: Adobe Connect
Abstract
On Wednesday, August 24th, NCHAM will be hosting the webinar "A Mentoring Needs Assessment: What Families with Young Children who are Deaf and Hard of Hearing want from a D/HH Adult Mentor or Role Model Program" presented by Nicole Brown, Danelle Gournaris, and Beth Quist.
Adult role models/mentors who are deaf or hard of hearing (D/HH) support the language acquisition and social development for families of infants and young children who are D/HH by sharing personal experiences or information about being D/HH, educational and communication opportunities, using hearing technology, and about the Deaf community and Deaf culture. For families who have chosen to use American Sign Language (ASL), the use of adult mentors and role models trained in ASL-based mentoring curriculums specifically supports the family's learning of ASL. Wilder Research was contracted by Lifetrack to conduct a study to better understand the needs and preferences of families with young children who are deaf or hard of hearing (D/HH) related to its family mentoring programs. A series of focus groups and interviews were conducted with 47 parents of children who are D/HH, as well as 51 adults who are D/HH, to gain a better understanding of how both groups perceive D/HH mentoring programs, including the benefits of and barriers to participation. A similar web survey was conducted with 118 parents of children who are D/HH. Interviews with six national experts and 13 Lifetrack staff were conducted regarding D/HH mentoring programs. A literature review of peer-reviewed research literature on the topic was conducted as well as a scan of the field of other D/HH mentoring programs around the U.S. The results were triangulated and synthesized to produce key findings & recommendations. The results of this study will help Lifetrack expand its outreach and offerings, particularly in terms of reaching populations that may currently be underserved. This presentation will share specific recommendations outlined in this report. We anticipate that this information will be helpful to other mentoring programs wishing to apply best-practices and strategies that support parents' wants and needs for their children who are D/HH.
Nicole Brown is a certified pediatric nurse practitioner and has worked in Minnesota's Maternal and Child Health/Public Health field for over 17 years at both the state and local level. She is Minnesota's EHDI Coordinator responsible to provide long-range planning and direction for the development, implementation, and evaluation of a statewide EHDI system for children once they are identified with hearing loss. Nicole served as the National Association of Pediatric Nurse Practitioners' liaison to the American Academy of Pediatrics Task Force on Improving the Effectiveness of Newborn Hearing Screening, Diagnosis, and Intervention. She works with NCHAM as Quality Improvement Advisor and is the parent of two children who are deaf.
Danelle has been at Lifetrack since 2012 as Deaf Family Mentor Program Coordinator. The Deaf Mentor Family Program at Lifetrack, based in St. Paul, Minnesota is a statewide program that provides Deaf Mentor and Language Role Model to hearing families with deaf and hard of hearing children. Danelle currently supervises 23 Deaf Mentors with approximately 100 families served since 2012. Prior to Lifetrack, she was a family counselor at a school district for one year and a deaf mentor for seven years. In 2000, Danelle earned her Masters of Arts in School Counseling from and her Masters of Science in Administration from Gallaudet University. She is also a Certified Deaf Mentor Trainer. Danelle currently serves as a board member for the Metro Deaf School, a deaf charter school in St. Paul, Minnesota.
As Senior Director of Education Services, Beth manages a number of programs within the Education Services portfolio. This includes Minnesota Hands & Voices, The Deaf Mentor Family Program, the Minnesota Coalition for Targeted Home Visiting, and general contracted services. She has a Masters Degree in Educational Leadership from Minnesota State University-Mankato as well as a Community Education Administration Licensure. Beth is also a Certified Family Life Educator through the National Council on Family Relations. She is passionate about providing education and resources to help working families manage the competing demands of work and family. Prior to joining Lifetrack, Beth managed multiple child care centers and provided regional training to caregivers in curriculum, child development and policies and procedures. She was recognized with the John F. Kennedy Educational Leadership Award for her efforts achieving national accreditation at eleven child care facilities through the National Association for the Education of Young Children.
Additional Materials
The activities and materials described in this webinar were developed in part by the Minnesota EHDI program which receives funding as a part of FOA HRSA-14-006 from the Maternal and Child Health Bureau (MCHB) of the Health Resources and Services Administration (HRSA) at the United States Department of Health and Human Services. The authors are responsible for the views and content of the material and no endorsement by MCHB/HRSA is implied or expressed.