Events > Pediatric Audiology: Evaluating the Hearing of Infants and Toddlers
Pediatric Audiology: Evaluating the Hearing of Infants and Toddlers
Register Online
The dates of the onsite workshop are:
March 24th & 25th, 2016
Thursday and Friday
At Idaho State University
Pocatello, Idaho
Idaho's Early Hearing Detection and Intervention (EHDI) program and the National Center for Hearing Assessment and Management (NCHAM) are partnering to offer another exciting training opportunity for audiologists. This instruction will enhance knowledge and skills in the assessment of hearing loss in infants and toddlers. Also, this training will provide strategies to ensure appropriate intervention is offered to children with hearing loss. The educational opportunity combines five weeks of online preparation with a two-day, on-site workshop emphasizing clinical procedures and hands-on practicum.
Online Instruction is required before attending on-site training

Weekly readings and online chats will increase theoretical and clinical knowledge. The reading list includes current relevant information regarding diagnostics, behavioral assessment, and intervention with infants and young children.
Workshop Details:
All participants will be asked to participate in a conference call before the start of the online instruction. During that call, students will be introduced to their online mentor and briefed on procedures for the online chats.
Chat Room Dates:
Exact days and times will be arranged to meet the needs of the participants.
Week of February 15th, 2016: Conference Call
Week of February 22nd, 2016: Online
Week of: March 29th, 2016: Online
Week of: March 7th, 2016: Online
Week of: March 14th, 2016: Online
Online Quiz:
The online quiz will be available at the end of the week of March 14th, 2016, the week before the onsite workshop. Participants who are familiar with the material in the readings and have participated in the chats should have no difficulty passing this quiz.
Technical Assistance:
You will be provided with a link and telephone number to assist you with any computer related problems or questions. You can contact your online mentor for questions regarding workshop content or materials.
On-site Instruction:
Dr. Lisa Hunter, Dr. Diane Sabo, Dr. Terry Foust, Dr. Karen Ditty, and Erika Blanchard will provide Two days of clinically based presentations. Also, leading manufacturers of Audiology equipment generously provide hands-on opportunities with clinical diagnostic equipment.
Dr. Lisa Hunter will discuss:
Electrophysiological and Electroacoustic procedures for infant Auditory Assessment
Dr. Diane Sabo will discuss:
Evaluating the hearing of infants and toddlers
Behavioral assessment of infants & children
Dr. Terry Foust will discuss:
IPad applications and their use for the busy Audiologist
Dr. Karen Ditty will discuss:
Audiologists role in EHDI
Dr. Erika Blanchard will discuss:
New 2014 coding for reimbursement
Andrea Amestoy will discuss:
When children have more than hearing loss
Hands-on Experience:
Breakout hands-on sessions will afford you the opportunity to apply procedures discussed during the didactic sessions. Equipment specialists and mentors will be available to help guide you.
Practicum Experience:
Each participant will be asked to complete or review diagnostic evaluations for three infants using the protocols presented in the course, and to submit a written report for each. Practicum Mentors provide helpful feedback. Participants and mentors will work together to arrange practicum situations that meet the participant's individual needs.
Registration Fee:
Will be WAIVED for the first 50 students that register (this includes one night stay at the onsite hotel). Additional nights will be the responsibility of the student but are available at a reduced rate for the first 15 students who need the extra night. Students will be required to attend both days of the 2-day, on-site workshop in Pocatello if registration is accepted.
Registration Deadline: February 8th, 2016
Early registration is encouraged since enrollment is limited to 50 participants. For questions regarding registration, please contact Dr. Karen Ditty
AAA CEUs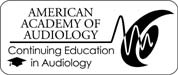 AAA CEU American Academy of Audiology (AAA) CEUs are pending and will be available for this course, 23 hours (.23 CEUs). Instructional level for this course is: Intermediate level. The National Center for Hearing Assessment and Management (NCHAM) out of Utah State University is approved by the American Academy of Audiology to offer Academy CEUs for this activity.
Accommodations
Arrangements for hotel rooms are pending however will be local to Pocatello The Hotel registration is made through the registration process. Registration includes one night at a local hotel, however, if more than one night is needed, please note that on the registration form. Additional costs outside the one night provided with registration are the responsibility of the student.
We reserve the right to cancel or reschedule this event if an insufficient number of registrations are received. In the case of a cancelation, all registrants will be notified.