Meeting the Needs of Physicians in Support of EHDI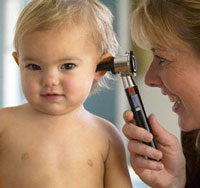 Presented by: Karl White, Ph.D.; Diane Behl, M.Ed. From NCHAM; and Jack Levine, MD, FAAP, Member, Early Hearing Detection and Intervention Leadership Team, American Academy of Pediatrics
When: This webinar was presented on Wednesday, Feb. 11th 2:00-3:30 ET/ 1:00 –2:30 CT/ noon-1:30 MT/ 11:00-12:30 PT.
Description of Webinar Content
Strong medical home involvement is an essential component for an effective EHDI system. An investigation of the knowledge, skills, and practices of the medical home in regard to EHDI was conducted with physicians across the country in 2006. At that time, physicians reported a lack of confidence in discussing follow-up procedures and intervention needs with families, and important gaps in knowledge were revealed. To gauge progress made in improving the knowledge, attitudes, and practices of medical home providers, NCHAM and Boy's Town National Research Hospital with support from the American Academy of Pediatrics conducted a survey in 2012-2013 with primary care providers and otolaryngologists across 24 states. Results reflected some positive changes, such as making referrals to appropriate specialists. Other aspects reflect little or no change, such as a continued perceived lack of preparation to meet the needs of infants with hearing loss and a limited knowledge about risks associated with hearing loss. Although close to 25% of physicians reported performing hearing screening in their offices, few used of objective screening methods, such as otoacoustic emissions. This presentation will discuss findings from this recent survey, sharing aggregate results from 24 states. Ways in which these results can guide EHDI training, technical assistance, and outreach activities for medical home providers will be offered, along with opportunities for obtaining participant recommendations. New resources available for supporting the medical home developed by the AAP will be shared, along with insights about real-life challenges that pediatricians face.
Learning Objectives
Describe the current knowledge and opinions of physicians throughout the country regarding EHDI.
Identify the training needs of physicians regarding EHDI.
Learn about strategies and resources for building partnerships with physicians serving as a medical home and the EHDI system.