Risk Monitoring for Delayed-Onset Hearing Loss in Young Children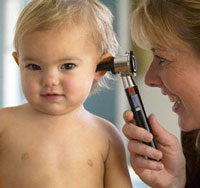 Presented by: Dr. Jessica Stich-Hennen
When: Thursday, July 21st at 1:30 pm–2:30 pm ET/ 12:30 pm–1:30 pm CT/ 11:30 am–12:30 pm MT/ 10:30 am–11:30 am PT.
Where: Adobe Connect
Abstract
On Thursday, July 21st, NCHAM will be hosting the webinar "Risk Monitoring for delayed-onset hearing loss in young children" presented by Jessica Stich-Hennen.
Since the 1970s, Joint Committee on Infant Hearing (JCIH) has recommended audiological monitoring for newborns and young children identified with risk indicators for delayed-onset hearing loss. JCIH 2007 position statement provided guidance on which risk indicators to monitor and which risk indicators should be monitored more frequently. The statement recommended "audiological assessment at least once by 24-30 months of age". Unfortunately, the 2007 JCIH position statement did not provide detailed protocols on how long to monitor, how frequent to monitor and when to discharge children from risk monitoring. As a result, there are inconsistencies in risk monitoring programs from state to state, clinic to clinic, and even audiologist to audiologist.
In Idaho, approximately 50% of infants identified with hearing loss present with risk indicators. At least half of infants with risk indicators and diagnosed hearing loss had more than one risk indicator identified.
This webinar provides current information regarding Idaho's "best practice" protocol for monitoring risk indicators in newborns and young children. The pros and cons of the current risk monitoring protocol will be addressed. It will describe Idaho's classification system for risk monitoring and address risk monitoring data collection procedures in Idaho. Data will be presented on the incidence and prevalence of risk indicators and diagnosed hearing loss in Idaho.
Overall, the presentation describes risk indicators for delayed-onset hearing loss, provides guidance for establishing audiology protocols for risk monitoring and provides guidance for tracking risk indicators at a state level.
Dr. Jessica Stich-Hennen received her Clinical Doctorate in Audiology (Au.D.) from the Idaho State University. In April 2011, she achieved Specialty Certification in Pediatrics from American Board of Audiology. Dr. Stich-Hennen's clinical specialty areas include pediatrics diagnostics and amplification, auditory evoked potentials and auditory processing disorders. She is the primary audiologist for the Idaho Cleft Palate-Craniofacial team.