Integrating Text4baby into EHDI Programs to Improve Maternal and Infant Health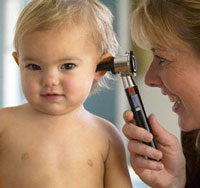 Presented by: Erin Bonzon, Kathy Watters
When: Wednesday, October 26, 2016 | 1:30 pm–2:30 pm ET/ 12:30 pm–1:30 pm CT/ 11:30 am–12:30 pm MT/ 10:30 am–11:30 am PT
Where: Adobe Connect
Abstract
On October 26, 2016, ZERO TO THREE and Voxiva, Inc. will present information about Text4baby and how EDHI Coordinators can increase its use for improves maternal and infant heath and explore its benefits for newborn hearing screening follow-up.
Text4baby is a free mobile health program of ZERO TO THREE and Voxiva Inc. NCHAM encourages coordinators to become familiar with Text4baby, specifically the messaging on hearing screening and follow-up.
Text4baby supports expectant women and new parents by providing accurate and timely health information and resources in a format that they know and frequently use. Research shows that text messaging is higher among women of childbearing age, low-income, and minority populations. External evaluations of Text4baby have shown significant positive results including increased use of resources and engagement with healthcare providers.
65% of participants reported that Text4baby helped them remember an appointment or immunization that they or their child needed
A randomized evaluation by George Washington University found that Text4baby participants were three times more likely to believe they are prepared for motherhood than those in the control group.
More information: Text4baby Data and Evaluation
Engaging Parents in Text4baby
EHDI coordinators are critical partners in enrolling women in Text4baby. Text4baby is an important tool to engage and reinforce the clinical guidance provided to patients around the importance of hearing screening and parents' prompt follow-up should the need arise. Here are some best practices you can use to promote Text4baby:
Share information regarding Text4baby with your networks. Free Text4baby flyers, posters and promotional items are available for you and partners here. These materials are designed to engage and enroll women into the service.
Work with state partners (e.g., state Medicaid office, part C program) and healthcare providers in your to promote Text4baby. If your partners have access to mobile phone numbers, following the appropriate contractual procedures, Text4baby can send women a text message letting them know about Text4baby and providing instructions on how to receive Text4baby messages.
Parents can also download the Text4baby app from the Apple Store or Google Play (Android). The Text4baby app is a complementary tool to the SMS messaging service, offering additional content and interactive features, and allowing parents to get a sneak peak of what's to come in pregnancy and baby's first year. Like many apps, the Text4baby app is FREE to download. Data use rates may apply. Participants can use their mobile data plan or Wi-Fi access when using the app. The app works on all iOS (iPhone) and Android operating systems. At this time, it does not operate on Windows or Blackberry technology.
Erin Bonzon is the Senior Program Manager for Text4baby at Zero to Three. In this role, she oversees the outreach team, builds partnerships and drives strategy to engage with local, state and national partners. Prior to Zero to Three, Erin was with the Association of Maternal and Child Health Programs and the National Association of County and City Health Officials. She has over ten years of experience in providing capacity building assistance to state and local maternal and child health professionals.
Kathy Watters is the Vice President of Health Services at Voxiva, Inc. In this role she is responsible to integrate Text4baby and other digital communications programs into the public system of services and support. Kathy has been a Public Health leader in the field of Maternal and Child Health with experience at the national and state levels. She has over 25 years of state experience and five years of federal experience leading teams of program staff, medical experts, data analysts, epidemiologists and consumer experts to achieve national goals and performance measures.