Utilizing Language Samples for Clinical Decision Making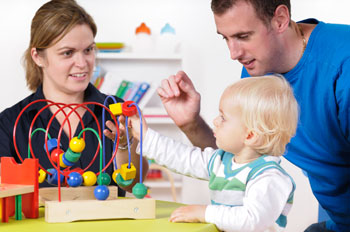 Presented by: Kristina Blaiser and Nicole Martin
When: Thursday, December 8th at 1:30 pm - 2:30 pm ET/ 12:30 pm –1:30 pm CT/ 11:30 am -12:30 pm MT/ 10:30 am -11:30 am PT
Where: Adobe Connect
On Thursday, December 8th, NCHAM will be hosting the webinar: "Utilizing Language Samples for Clinical Decision Making" presented by Kristina Blaiser and Nicole Martin.
Abstract
Standardized assessments are often used to measure the progress of children enrolled in early education programs. However, these measures are not sensitive enough to identify the specific errors that are often made by children who are deaf/hard-of-hearing. Language samples can provide an excellent supplement to standardized assessments and can be a useful tool for intervention planning and progress monitoring. In addition, language samples can provide useful information on phonological and morphological productions essential to interprofessional and parental collaboration on the validation of hearing technology. Longitudinal language samples can provide information about changes in language production over time that can help to guide decision clinical decision-making and assist with decisions related to programmatic changes as needed. This presentation will share examples of how language sample results have been used for parent advocacy training and to help support progress monitoring when children enter inclusive settings.
Presenters
Kristina Blaiser, Ph.D., CCC-SLP, is an assistant professor of Speech-Language Pathology in the Department of Communication Sciences and Disorders at Idaho State University-Meridian. Dr. Blaiser has extensive experience leading early childhood education programs and evaluating the outcomes of children who are Deaf and Hard-of-Hearing. Her research interests include program evaluation and graduate training related to assessment and early intervention practices of children who are Deaf/Hard-of-Hearing. Dr. Blaiser's recent work has focused on using telehealth to support families in early intervention. Kristina is the Program Development Manager for ASHA SIG 9: Hearing Loss and Hearing Disorders in Childhood, has served as a consultant for the National Center for Hearing Assessment and Management (NCHAM), and is Vice President for the OPTION Schools network.
Nicole Martin is the Director of Sound Beginnings at Utah State University. She is also a clinical supervisor for students enrolled in the Listening and Spoken Language Graduate Studies program at Utah State University. She is certified in both speech-language pathology and special education with listening and spoken language emphasis.