Last Modified: 06/21/2023
Fact Sheet: Technology and Connectivity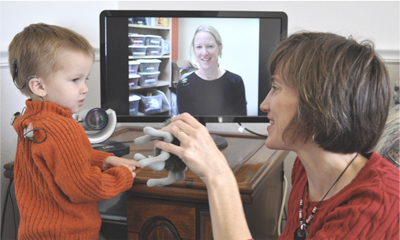 Key Points:
The Pew Research Center reports that approximately 75% of homes have broadband internet. Click on this link to find out if your home has access.
High speed internet continues to be a challenge in more rural or mountainous areas. Consider using a hotspot on a smartphone as an alternative. Or, use a platform that requires less bandwidth.
There are several video-conferencing platforms that offer end-to-end encryption that is HIPPA compliant. These secure programs can be easily installed on home computers, tablets, and even smart phones. The number of available video-conferencing platforms is increasing all the time.
83% of providers in a Colorado Self Report* study indicated their video-conferencing technology to be reliable at least 75% of the time, and 50% indicated that it was reliable at least 90% of the time

Even though the technology doesn't fail as often as some thought, any failure at all can seem to be disruptive to a session. It is valuable to have a plan, before the session starts, for steps to follow if there is a failure (e.g., screen freezes, call is dropped). Some suggestions include sharing phone numbers so you can call or text, sharing email addresses to allow continued communication.
Research:
Blaiser, K. M., Behl, D., Callow-Heusser, C., & White, K. R. (2013). Measuring costs and outcomes of tele-intervention when serving families of children who are deaf/hard-of-hearing. International Journal of Telerehabilitation, 5, 3-10. doi: 10.5195/ijt.2013.6129
Cole, B., Pickard, K., Stredler-Brown, A. (2019). Report on the use of telehealth in early intervention in Colorado: Strengths and challenges with telehealth as a service delivery method. International Journal of Telerehabilitation, 11:1, 33-40. doi: https://doi.org/10.5195/ijt.2019.6273
Lincoln, M., Hines, M., Fairweather, C., Ramsden, R., & Martinovich, J. (2014). Multiple stakeholder perspectives on teletherapy delivery of speech pathology services in rural schools: A preliminary, qualitative investigation. International Journal of Telerehabilitation, 6:2, 65-74. doi: 10.5195/ijt.2014.6155
Video clips:
This resource was developed by the NCHAM Tele-Intervention Learning Community