Last Modified: 09/21/2023
Welcome to the TI 101 Learning Courses!
What is Tele-intervention?
Tele-Intervention (TI) - the provision of early intervention services via teleconferencing technology - has become increasingly popular as a method to increase access to services for families of children with special needs, especially families of children who are deaf or hard of hearing In fact, Research has shown that children who receive services via tele-intervention (or TI) make as much or more progress than children who receive services through traditional in-person visits (Blaiser, Behl, Callow-Heusser, & White, 2013; Behl, et al 2015).
Introducing TI 101 online Training
To support early intervention programs that are interested in implementing TI, three online introductory level courses are available. To start a course, click on the icons below: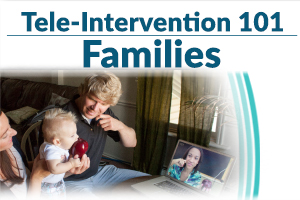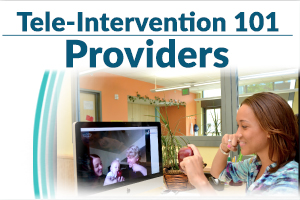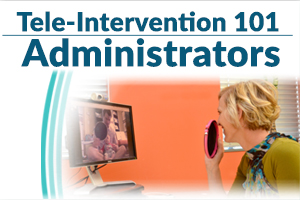 Overview of TI 101 Courses
TI 101 Administrators
(Approximately 30 min.)
TI 101 for Providers
(Approximately 1 – 1.5 hours)
TI 101 for Families
(Approximately 1 – 1.5 hours)

Focus: How do I create a TI component for EI services?

Includes:

Budgeting for TI
HIPAA, FERPA considerations
Technology requirements
Use of recordings
Reimbursement
Licensure
Supporting and Monitoring TI staff
Evaluating TI

Focus: How do I implement TI and engage families?

Includes:

Value of TI
Setting up a TI session
Communicating with families
TI connectivity trouble shooting
Preparing materials
Coaching strategies
Using TI for teaming, interpreter involvement
Using recordings to guide intervention

Focus: How can I be successful in using TI with my child?

Includes:

Value of TI
Family role as primary intervenor
Partnering with providers
Tips for a successful TI session
Making TI fit in your daily routines
Informed consent & rights
Getting feedback
Engaging family members
We encourage you to watch all three courses, paying particular attention to the documents and links to other web-based documents. When you've completed a course, please fill out this brief, two-question survey to let us know how you rate it. We appreciate your feedback!
Thanks to support from the Daniels Fund, these courses are free of charge.
For more information about TI, please see the NCHAM TI Resource Guide or contact Diane Behl or Kristina Blaiser.
To reference material used in these online courses, please use the following citations:
Blaiser, K. Behl, D., Edwards, M. Olsen, S. and Cook, G. (2015). Tele-Intervention 101: Administrators, Families, Providers. In Tele-Intervention 101[Online training course]. Retrieved from https://www.infanthearing.org/ti101