Ototoxicity Monitoring as Part of Risk Monitoring in the EHDI System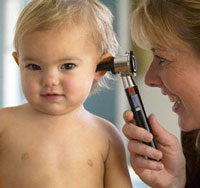 Presented by: Dr. Jessica Stich-Hennen
When: Thursday, October 8th, at 1:30–2:30 pm ET
Where: Adobe Connect
On Thursday, 10/8, NCHAM will be hosting the webinar "Ototoxicity Monitoring as Part of Risk Monitoring in the EHDI System" presented by Dr. Jessica Stich-Hennen.
In 2007, the Joint Committee on Infant Hearing (JCIH) recommended audiological monitoring for newborns identified with risk indicators for late-onset hearing loss. The list of risk indicators included caregiver concerns, family history of permanent childhood hearing loss, NICU stay greater than 5 days, assisted ventilation, ototoxic medications, hyperbilirubinemia requiring transfusions, in-utero infections, craniofacial anomalies, physical findings or syndromes associated with hearing loss or progressive or late-onset hearing loss, neurodegenerative disorders, culture-positive postnatal infections associated with hearing loss, head trauma and Chemotherapy. Some risk indicators are more concerning and require frequent audiological evaluations. JCIH statement did not provide a detailed protocol for monitoring of risk indicators in infants. As a result, there are inconsistencies in risk monitoring protocols from state to state, clinic to clinic, and even audiologist to audiologist.
The presentation describes Idaho's "best practice" protocol for monitoring risk indicators in newborns and young children. The pros and cons of the current risk monitoring protocol will be addressed. The presentation will provide a look into Ototoxic monitoring protocol currently used in Idaho. Data will be presented on the incidence of risk indicators and diagnosed hearing loss in Idaho. The presentation addresses risk monitoring protocols and recommendations at the pediatric audiology clinic level and state level.
Dr. Jessica Stich-Hennen, a pediatric audiologist for Idaho Elks Hearing & Balance Center in Boise, ID. She specializes clinically in pediatric diagnostics and amplification, auditory-evoked potentials, and central auditory processing disorder evaluations. For several years, Dr. Stich-Hennen managed the Newborn Hearing Screening Program for the largest birthing hospital in Idaho. In addition, she has provided audiology support for the Early Hearing Detection and Intervention (EHDI) program in Idaho. In April 2011, Dr. Stich-Hennen became one of the first pediatric audiologists to obtain ABA Specialty Certification in Pediatric Audiology. Dr. Stich-Hennen has presented locally and nationally, including "Risk Monitoring Infants for Late Onset Hearing Loss" at the National EHDI Conference 2012 and Pediatric Grand Rounds at American Academy of Audiology Conference in April 2013.
Register now to learn more about this important topic!
---