Last Modified: 03/17/2022
A Practical Guide to the Use of Tele-Intervention in Providing Early Intervention Services to Infants and Toddlers Who Are Deaf or Hard of Hearing
I. Introduction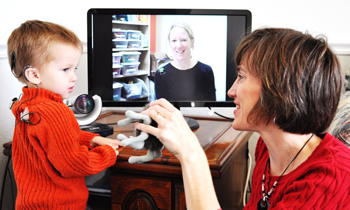 The National Center for Hearing Assessment and Management (NCHAM) works to support access to appropriate early intervention (EI) services for families of children who are diagnosed as deaf or hard of hearing. In the spirit of this mission, NCHAM has been promoting the role of telehealth in providing timely, family-centered services. Defined broadly, telehealth is the use of electronic information and telecommunications technologies to support long-distance clinical health care, patient and professional health-related education, public health and health administration (HRSA: Telehealth Programs). The term "tele-intervention (TI)" is a term coined by NCHAM to refer to the application of telehealth technologies to providing EI services.
Over the past 7-8 years, NCHAM has been supporting the knowledge base and research to determine the effectiveness of TI. We believe TI is a useful tool in serving families of children who are DHH and applies to the use of any communication opportunity selected by the family.
What are other terms used for delivering EI services via telehealth technologies?
Several terms are used in the EI field to refer to providing services in this manner:
Teleschool is used by the Royal Institute for Deaf and Blind Children (RIDBC) in Australia—one of the pioneers in the use of telehealth
Virtual Home visits is used to emphasize that families are still typically in their home and thus is still a "natural environment"
Telehealth is used to strengthen the association with the broader field of telehealth
NCHAM Tele-intervention Learning Community
Beginning in 2010, NCHAM began to explore the use of TI by forming a "learning community" comprised of EI providers and researchers who wanted to apply this new approach to delivering services. The purpose of the learning community was to share their experiences, address current challenges, and systematically address relevant issues. Since that time, the TI Learning Community has grown from 6 members to over 40 people who are implementing TI. To learn more about the TI learning community, send a message via Facebook.
What Is the Purpose of This Resource Guide?
This resource guide provides practical information to programs and individuals interested in using TI to provide family-centered early intervention to families of children who are deaf/hard of hearing who have chosen a spoken language outcome. It reflects the work of the NCHAM TI learning community which focused its efforts on:
Sharing strategies to implement TI with families of children who are deaf and hard of hearing
Conducting and disseminating research pertaining to TI
Promoting tele-intervention as a viable service provision option to reach more children and families and to improve outcomes for children with hearing loss.
The information presented in this guide is based on practical experience using tele-intervention and reflects the participants' consensus on recommended practices.
Limitations of This Guide
It is also important to keep in mind that given rapid changes in technology, the user of this resource guide is encouraged to keep abreast to changes that may have occurred. Finally, the implementation of TI is driven by state-specific licensure and reimbursement regulations rather than universal policies. Therefore, users of this guide are encouraged to inform themselves about the policies within their own state and those of other states that may be involved.