Last Modified: 06/22/2021
III. Licensure, Reimbursement, and Legislation
Licensure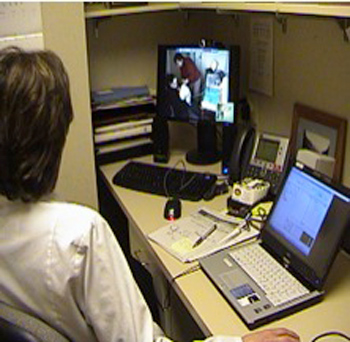 In preparation for pursuing coverage of tele-audiology services at the state level, it is important to have an understanding of the general procedures, as well as an understanding of the benefits and drawbacks to telehealth coverage.
Licensure rules are relatively straightforward: In order to conduct remote diagnostic evaluations, an audiologist must be licensed in the state where the child is located. For most of the members involved in this learning community, inter-state licensure was not required since they were serving infants in remote regions of their own state.
The American Speech Language Hearing Association (ASHA) provides the Tracking of State Laws and Regulations for Telepractice and Licensure Policy [PDF] so you can stay updated with the latest changes to state tele-audiology regulations and licensure.
Reimbursement
Reimbursement is not straightforward. Rules vary state to state and by private versus public payment sources. However, reimbursement barriers slowly are devolving. Commentary by Paul Cerrato writes how "Barriers to telemedicine slowly crumble".
The following articles provide reimbursement and coding guidance which you may find helpful:
Legislation
State Telehealth Laws and Reimbursement Policies report [PDF] "offers policymakers, health advocates, and other interested health care professionals an overview of telehealth policy trends throughout the nation. For detailed information by state, see CCHP's telehealth policy database tool which breaks down policy for all 50 states and the District of Columbia." (CCHP).
Medicaid Policies and Reimbursement 50 State Telehealth Medicaid Policy Report
The Center for Connected Health Policy (CCHP) has released an analysis of state telehealth laws and Medicaid reimbursement policies. The report focuses on three key categories of telehealth that continually get brought up in the discussions about reimbursements, licensing, and definitions in state Medicaid programs.
References
Center of Connected Health Policy. (n.d.). Current state laws & reimbursement policies. https://www.cchpca.org/resources/state-telehealth-laws-and-reimbursement-policies-report-spring-2021/
Center for Connected Health Policy. (2019). State telehealth laws & reimbursement policies. https://cchp.nyc3.digitaloceanspaces.com/files/2019-10/50%20State%20Telehalth%20Laws%20and%20Reibmursement%20Policies%20Report%20Fall%202019%20FINAL.pdf

[PDF]

Cerrato, P. (2013). Barriers to telemedicine slowly crumble. Information Week. https://www.informationweek.com/healthcare/patient-tools/barriers-to-telemedicine-slowly-crumble/d/d-id/899766
Chakrabarty, S. Jilla, A., & Miller, E. (2020). Specialty series: Telehealth. Audiology Today, 32(5), 56-62.
Mason, M. (2020, August 10). Updates on current federal telehealth legislation. National Health Council. https://nationalhealthcouncil.org/blog/updates-on-current-federal-telehealth-legislation/
The American Speech-Language-Hearing Association. (2021, April 13). COVID-19: Tracking of state laws and regulations for telepractice and licensure policy. https://www.asha.org/siteassets/uploadedfiles/State-Telepractice-Policy-COVID-Tracking.pdf

[PDF]