Last Modified: 06/21/2023
X. Tele-Audiology and Quality Improvement
Providing remote pediatric audiology services has the potential to improve access to care for young children and their families who might otherwise go without services. Asking questions of families about their experience with tele-audiology services, such as convenience, costs saved, comfort, and satisfaction is one component of determining the effectiveness of tele-audiology. Parent Satisfaction Survey - Tele-Audiology is one example by the Guam EHDI program of an easy-to-use survey.
"Program assessment refers to a process applied to an individual program for quality control: clinical outcomes, provider adoption, workflow impact, financial impact on the clinic, financial impact on family, and patient satisfaction." Evaluating the Success of a Tele-Audiology Program.
But does Tele-Audiology actually improve the timeliness of services, reduce costs, and maintain quality comparable to in-person services? Is it consistent with professional standards? How will the audiologist know if implementing tele-audiology services is an improvement? Are the processes and the outcomes actually positive changes?
Overview of Quality Improvement
"The goal of Quality Improvement (QI) is to use an iterative process to make systematic improvements in EHDI (and other healthcare programs)…based on the Model for Improvement. The model is driven by three fundamental questions followed by tests of change.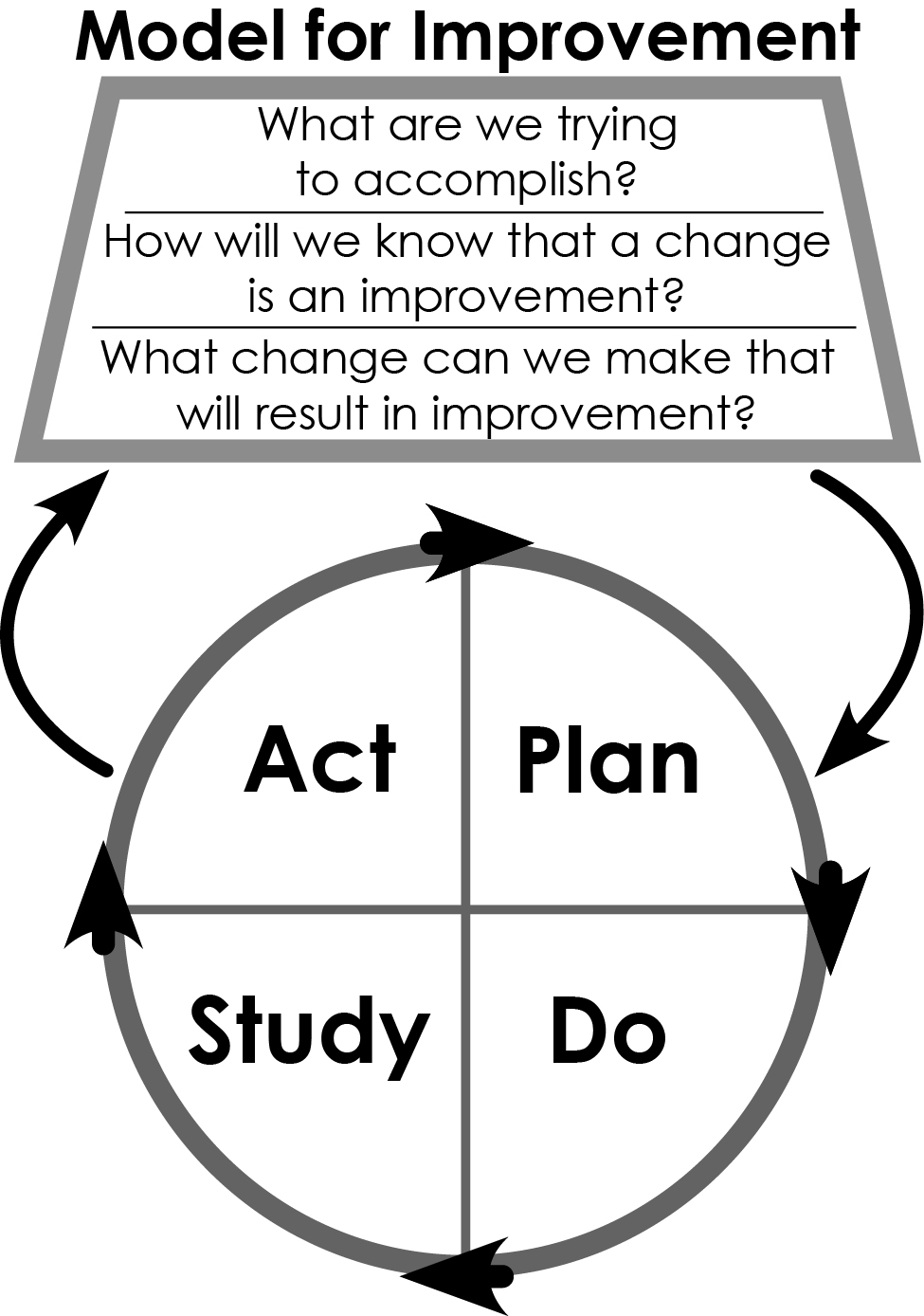 Fundamental Questions
What are we trying to accomplish?
How will we know if a change is an improvement?
What changes can we make that will result in improvement?
Tests of Change
The tests of change entail Plan-Do-Study-Act (PDSA) cycles. The cycles are used to rapidly test the change by planning the change, trying the change, observing the results of the change, and then acting on what is learned from the cycle. Initially PDSA cycles are implemented on a very small scale and once confidence in the change strategy is established, the PDSA is incrementally expanded." Quality Improvement in EHDI Programs
QI Tools and Resources
References
O'Hollearn, T. (2021, March 30). ABR testing in educational audiology to overcome access barriers [Webinar]. Iowa's Early Hearing Detection & Intervention Program.
Tharpe, A. M., & McCaslin, D. L. (n.d.). Evaluating the success of a tele-audiology program [PowerPoint slides]. Vanderbilt University Medical Center.
The American Speech-Language-Hearing Association. (n.d.). Telepractice. (Practice Portal). https://www.asha.org/practice-portal/professional-issues/telepractice/
Ward, A. & Norton, A. (n.d.). Quality improvement: Small changes that can make a big difference. The NCHAM eBook (pp 1-10).